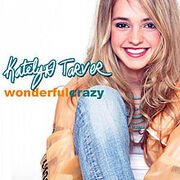 Wonderful Crazy is Katelyn Tarver's second album, but her first full-length one. It was released in 2005 by indie label TC Music. Katelyn went on tour to promote this album in 2005–2006.
Track listing
1. Undeniable
2. Rain
7. Keep Your Eyes on the Prize
8. Life Was
10. Everything
11. I'll Make It Real (duet version) f/ Aaron (Asian bonus track)
Taiwan Special Edition (CD / CD+DVD ; With special cover)
CD 1. Brand New Day
4. Rain
7. Undeniable
9. Life Was
11. Keep Your Eyes on the Prize
12. Everything
DVD
13. Wonderful Crazy (Music Video)
14. Interview with Katelyn Tarver
Ad blocker interference detected!
Wikia is a free-to-use site that makes money from advertising. We have a modified experience for viewers using ad blockers

Wikia is not accessible if you've made further modifications. Remove the custom ad blocker rule(s) and the page will load as expected.