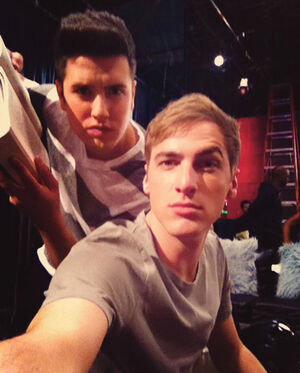 Hey Kendall's Cover Girls and fans!
Kendall has just created his own brand of clothes and accessories. So if you want to personalized your life Big Time Kendizzle style I recomended checking his website.
kendallschmidt.spreadshirt.com
Not only did Kendall from Big Time Rush open a clothing line, his best friend Logan Henderson also opened his own clothing line.
bigtimerushtv.com: "Kendall Schmidt and Logan Henderson from Big Time Rush just gave us a sneak peek of their NEW clothing line, and we have to admit their stuff definitely tops our want-list this holiday season! Not only are there cute tees, hoodies and undies, but they have personalized coffee mugs and cell phone covers too! And even Yuma the Pig is in on the action."
Ad blocker interference detected!
Wikia is a free-to-use site that makes money from advertising. We have a modified experience for viewers using ad blockers

Wikia is not accessible if you've made further modifications. Remove the custom ad blocker rule(s) and the page will load as expected.