Unnamed Robot is a robot that appeared in Big Time Double Date.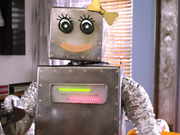 She was created by Logan Mitchell to make Camille Roberts jealous. After Logan being convince to find a real girl. He left making her real sad and Mrs. Knight trying to help her.
Personality
While her only appearance was in Big Time Double Date and was created by Logan, her personality most be similar to Logan in many ways. Also the way she talked and look give her a friendly look.
"Finish your rapping!"
This article is a stub. You can help the Big Time Rush Wiki By expanding it! Thanks!!
Ad blocker interference detected!
Wikia is a free-to-use site that makes money from advertising. We have a modified experience for viewers using ad blockers

Wikia is not accessible if you've made further modifications. Remove the custom ad blocker rule(s) and the page will load as expected.