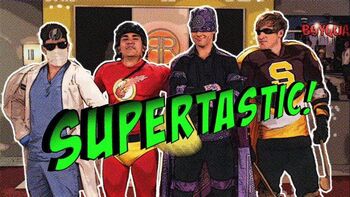 The Supertastic Super 6
is a group created by James Diamond's alter ego
Bandana Man
in
Big Time Superheroes
. The group was created in an effort to defeat
Hawk
now that he became a supervillain after being released from prison & stole their album which Hawk plans to release as his own.
The guys at first were against the plan, but at the end they did it and defeated Hawk who was sent back to prison. The cops plan to call BTR when their's trouble too big that they can handle (saving a cat from a tree).
Members
Trivia
While Kendall and Logan didn't create their alter ego until Big Time Superheroes. In Big Time Concert when Carlos arrive as his alter ego to Kendall's house, the clothes that Logan and Kendall are wearing, are going to be used as part of their superheroe clothes in future episodes.
Gallery