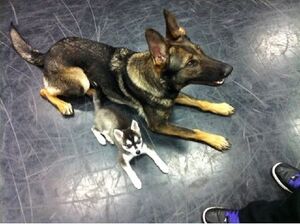 Sydney is Carlos' 2 year old German shepherd. Carlos got Sydney 8 months after his dog, Stella, passed away. He said that he wanted some time before getting a new dog.
Carlos has said Sydney was trained to be a police dog before he got her. He also said that she wasn't trained to bite so she doesn't bite.
Trivia
Sydney had eaten a towel and had to get surgery to remove it.
Sydney has recently burn her front paws on the tarmac.
Carlos calls her Sydney Raye Pena.
Gallery
"Finish your rapping!"
This article is a stub. You can help the Big Time Rush Wiki By expanding it! Thanks!!
Ad blocker interference detected!
Wikia is a free-to-use site that makes money from advertising. We have a modified experience for viewers using ad blockers

Wikia is not accessible if you've made further modifications. Remove the custom ad blocker rule(s) and the page will load as expected.