Season 5 (overview)
Comments

29
535pages on
this wiki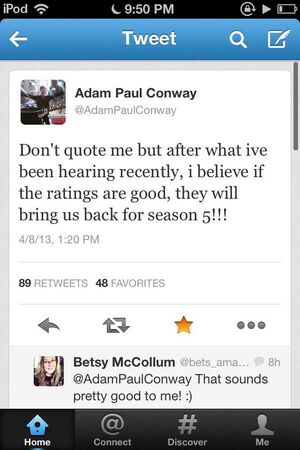 Season 5 is a possible future season of BTR. While this season may not happen. On April 8, 2013, Adam Paul, cast member of the show, tweeted that if the ratings are good for Season 4, Nickelodeon may bring BTR back for another Season.
In an Ok! Magazine interview, James was asked about Season 5.
Ok!: Come on season five!
JM: Season five would be cool but I'm more excited about transitioning into film or something a little more mature after this.[1] Season 5 is not currently confirmed.
Status
Season 5 may not happen as Nickelodeon might choose to move on with other shows and leave BTR behind. The guys may also want to go on their own separate ways and tried more mature things.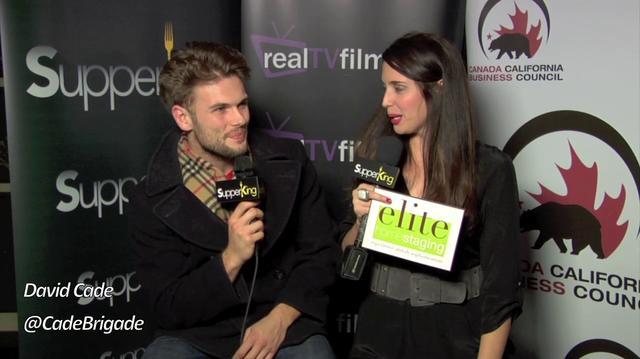 David Cade (Jett Stetson) revealed in an interview with Tracy Stumpf from RealTVfilms Social Lodge that Season 4 maybe the last season for Big Time Rush (TV show)[2]
Since Nickelodeon hasn't told the cast if Season 4 would be the last, some of the memembers has said their good byes.
David Cade

@cadebrigade: Well guys, I wrapped my last episode of BTR forever. I want to thank all of the production, cast,crew, and fans for the last 3 years. #love [3]
On May 9, 2013, Carlos revealed that the set of BTR has been dismantled.[3][4][5], however in an interview with PopCrush, Kendall stated, "They haven't destroyed the sets. The sets are in storage, so as far as I'm concerned, we're definitely gonna come back and do something."
After Summer Break Tour
Big Time Rush will be on tour throughout the summer. And then?
"I don't know how you can possibly dismantle a band like Big Time Rush. It's such a huge entity...We don't fight," Schmidt said. "We argue and bicker over little things. We're all so different that we never compete with each other...It's always going to be a huge part of my life and our lives. As long as the fans want content, and they want us to keep filming, I think they will keep us filming."[6]
Big Time Movie 2
PopCrush: There's also been some rumors about another Big Time Rush movie coming out.
Kendall: I would love that. I think it would be great, but Scott would still have to write it. By the time we're done with tour, I know that there are gonna be plans. They haven't destroyed the sets. The sets are in storage, so as far as I'm concerned, we're definitely gonna come back and do something. It might not be thirteen episodes again, but it might be like a mini series. We might do four hour-long shows, or one hour-long movie with three regular episodes to lead up to it.[7]
New Music
On July 20, 2013, Carlos Pena Jr. released a video on Instagram which reveals that he and the guys are working on new music for Big Time Rush.[8]
M Interview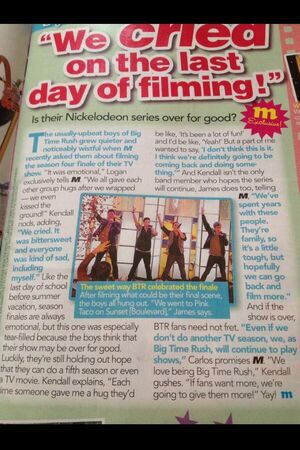 The usually-upbeat boys of Big Time Rush grew quieter and noticeably wistful when M recently asked them about filming the season four finale of their TV show.
"It was emotional," Logan exclusively tells M. "We all gave each other group hugs after we wrapped-we even kissed the ground!" Kendall nods, adding, "We cried. It was bittersweet and everyone was kind of sad, including myself."
Like the last day of school before summer vacation, season finales are always emotional, but this one was especially tear-filled because the boys think that their show may be over for good.
Luckily, they're still holding out hope that they can do a fifth season or even a TV movie. Kendall explains, "Each time someone gave me a hug they'd be like 'It's been a lot of fun!' and I'd be like, 'Yeah!' But A part of me wanted to say, "I don't think this is it. I think we're definitely going to be coming back and doing something.'"
And Kendall isn't the only band member who hopes the series will continue, James does too, telling M, "We've spent years with these people. They're family, so it's a little tough, but hopefully we can go back and film more."
And if the show is over, BTR fans need not fret. "Even if we don't do another TV season, we, as Big Time Rush, will continue to play shows," Carlos promise M. "We love being Big Time Rush," Kendall gushes. "If fans want more, we're going to give them more!" Yay! M
References
"Finish your rapping!"
This article is a stub. You can help the Big Time Rush Wiki By expanding it! Thanks!!