This article needs some clean up, please help by editing it and making it better thanks!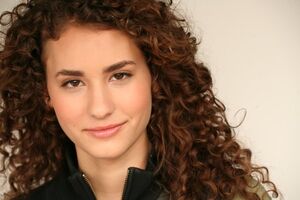 Rachel DiPillo plays as the "second" new girl, first being Jo, who is fond of James, but was part of a mob that chased him out in "Big Time Dance". She is known as "sunblock girl" in Big time terror in which Gustavo scared away. Shes seen occasionally in the background as an extra. In the credits she listed as Pretty girl #1 or Pretty girl.
She has starred in other shows like The Gates as Lexie.
"Finish your rapping!"
This article is a stub. You can help the Big Time Rush Wiki By expanding it! Thanks!!
Ad blocker interference detected!
Wikia is a free-to-use site that makes money from advertising. We have a modified experience for viewers using ad blockers

Wikia is not accessible if you've made further modifications. Remove the custom ad blocker rule(s) and the page will load as expected.