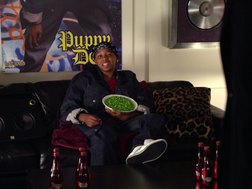 Puppy Dog is a rapper that appears in Big Time Babysitting.
He stole jellybeans from Babylace's dressing room and he was a jerk to Kelly and Gustavo when they try to reason with him about the jellybeans. He is quite arrogant and believe people came to watch him and no Babylace.
Puppy Dog has a "hit song" called "Throw It Up". When he was perfoming it, he threw up on stage from eating the jellybeans he took.
"Finish your rapping!"
This article is a stub. You can help the Big Time Rush Wiki By expanding it! Thanks!!
Trivia
Ad blocker interference detected!
Wikia is a free-to-use site that makes money from advertising. We have a modified experience for viewers using ad blockers

Wikia is not accessible if you've made further modifications. Remove the custom ad blocker rule(s) and the page will load as expected.