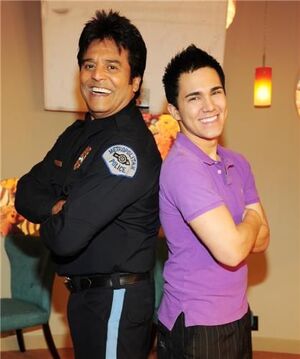 Officer Garcia (Erik Estrada) is Carlos' dad. He is a police officer and also wears a helmet a lot, similar to his son, Carlos. He can get crazy at times when his son is in trouble in his efforts to help Carlos. He has helped Carlos find his helmet, along with Buddha Bob's boom box, Tyler's froggy slippers, and Mr. Bitters bologney.
"Finish your rapping!"
This article is a stub. You can help the Big Time Rush Wiki By expanding it! Thanks!!
Ad blocker interference detected!
Wikia is a free-to-use site that makes money from advertising. We have a modified experience for viewers using ad blockers

Wikia is not accessible if you've made further modifications. Remove the custom ad blocker rule(s) and the page will load as expected.