Ad blocker interference detected!
Wikia is a free-to-use site that makes money from advertising. We have a modified experience for viewers using ad blockers

Wikia is not accessible if you've made further modifications. Remove the custom ad blocker rule(s) and the page will load as expected.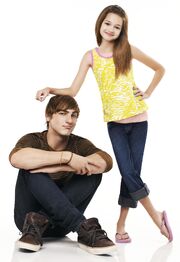 Kendie
is the
sibling
pairing of 
Kendall Knight
and
Katie Knight
. This pairing is
not
a romantic pairing due to the fact that they're siblings, and there is a large age difference.. They appear quite close. They tend to help each other in numerous situations. Another name for this pairing may be
Katall
.
Similar relationships are Jatie and Catie.
Kendie Moments
Season 1
Katie reveals that Kendall sings to her when she can't sleep at night. 
Katie states that Kendall tends to sing often meaning she knows him quite well. 
Throughout Katie's attempt at convincing, she continuosly embarrasses Kendall. 
Katie pushes Kendall and the band into the pool to calm them down. 
Kendall asks Katie to help them involving Gustavo. He states that they need someone who can think like Gustavo and get inside his head.
Katie helped the boys throughout the entire mission. 
Katie helped Kendall erase the photo of his butt
Trivia
In various BTR episodes, it is shown that they wear tree hats a lot.
Gallery
"Finish your rapping!"
This article is a stub. You can help the Big Time Rush Wiki By expanding it! Thanks!!