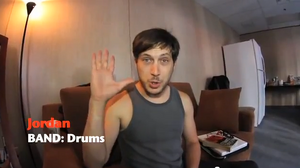 Jordan Plosky is a a professional drummer for Big Time Rush. He also played for Miley Cyrus, Everclear, Perry Farrell, Taio Cruz, Jason Derulo and many more.
Trivia
Gallery
The Band
"Finish your rapping!"
This article is a stub. You can help the Big Time Rush Wiki By expanding it! Thanks!!
Ad blocker interference detected!
Wikia is a free-to-use site that makes money from advertising. We have a modified experience for viewers using ad blockers

Wikia is not accessible if you've made further modifications. Remove the custom ad blocker rule(s) and the page will load as expected.