Heather Fox
General Information
Gender:
Female
Age:
17
Hair Color:
Black
Eye Color:
Blue
Height:
5'7"
Occupation(s):
Spokesmodel
Other Information
Interests:
Modeling
Series Information
First appearance:
Big Time Secrets
Last appearance:
Big Time Secrets
Portrayed By:
Elizabeth Gillies
Heather Fox (potrayed by Elizabeth Gillies) is a model who went to Camp Wonky Donkey with Carlos and James when they all were younger. She is sweet and pretty, so both Carlos and James had a huge crush on her. In the episode Big Time Secret James reveals to Carlos that she had actually liked Carlos back. 
Big Time Secrets
Heather Fox is a model that Carlos Garcia and James Diamond met in Camp Wonkey Donkey when they were little. Both James and Carlos have a crush on her. One day at Camp she gave James a note to give to Carlos as she was too shy to tell Carlos she liked him. James, having a crush on her, never gave the note to Carlos, breaking a friend code.
While playing a game made up by Lucy, James reveals to Carlos that Heather did like him and that she gave him a note meant for him but he threw it away. This infuriated Carlos and made him attack James. Kendall tells James that he has to "make it right" and help Carlos with Heather. James try to make Heather fall in love with Carlos all over again because she doesn't remember her crush on Carlos. To do so, James send her a letter inviting her to Camp Wonkey Donkey, and he and Carlos try to reenact camp memories with Heather.
At the end of the day, she ask Carlos to walk with her to her car alone only to reveal that she has a crush on James and to ask Carlos to give James a note for her. Carlos was gonna toss it away but, knowing that wasn't right, gave it to James. James tossed the note because he said that Carlos' friendship was more important to him.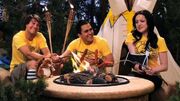 Trivia
Elizabeth Gillies plays Heather Fox, she also plays Jade West in Victorious and she is also the voice actress of Daphne in Winx Club

.

Heather Fox is the opposite of Jade. Heather is nice and sweet while Jade West is mean and more of an antagonist in the Victorious series.
Kendall said it was great having Liz as a special guest star bacause it is like keeping the Nickelodeon family together.
Even though Heather's height is listed as 5'2", the actress that portrays her is actually 5'7".
Ad blocker interference detected!
Wikia is a free-to-use site that makes money from advertising. We have a modified experience for viewers using ad blockers

Wikia is not accessible if you've made further modifications. Remove the custom ad blocker rule(s) and the page will load as expected.