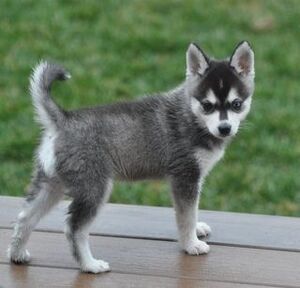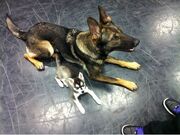 Fox is James Maslow's 2 year old Alaskan Klee Kai. James got Fox after Carlos Pena Jr. got Sydney. James has revealed that he has named his dogs after a Nintendo game called Star Fox.
James have said "I've always loved big dogs," shrugging his shoulders. "He's a husky I put in a dryer."
Fox was also featured in the music video for James and MattyB's Never Too Young.
Trivia
Every Friday, James posted a photo on twitter and called it #FoxPhotoFriday.
Logan likes to dress Fox up which makes Fox run away everytime he sees him.
Fox shares the same birthday (October 7) with James's brother, Philip Maslow.
The creator of the show wanted to used Fox in an episode. He was supposed to appear in Big Time Rescue but he was loud (he kept barking and fighting with other dogs). He was disqualified from audition and got replaced by another dog.[1]
Gallery
"Finish your rapping!"
This article is a stub. You can help the Big Time Rush Wiki By expanding it! Thanks!!
Ad blocker interference detected!
Wikia is a free-to-use site that makes money from advertising. We have a modified experience for viewers using ad blockers

Wikia is not accessible if you've made further modifications. Remove the custom ad blocker rule(s) and the page will load as expected.