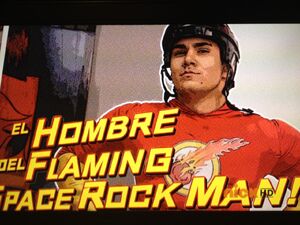 El Hombre Del Flaming Space Rock Man is Carlos Garcia's alter ego. He created it in Big Time Concert after the guys moved back to Minnesota. Initially, he wanted to use the name Meteor Man, but Logan pointed out that the name was the title of a superhero movie of the same name in 1993, starring Robert Townsend. [1] He also had Asteroid Boy and Comet Dude in mind as potential names.
In Big Time Superheroes after Hawk stole the songs from their second album and planned to release then as his own, James convinced them into becoming superheroes to get them back, stating that the only way to defeat a super villain was to become superheroes, thus inspiring Carlos to bring his alter ego back to save their new songs. He is now part of The Supertastic Super 6, a group created by James' alter ego, Bandana Man.
Gallery
Powers
- Fireball blast
- Flight
Ad blocker interference detected!
Wikia is a free-to-use site that makes money from advertising. We have a modified experience for viewers using ad blockers

Wikia is not accessible if you've made further modifications. Remove the custom ad blocker rule(s) and the page will load as expected.