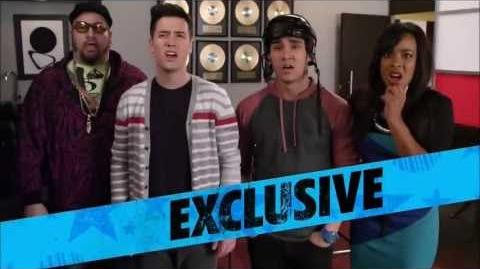 Big Time Scandal is the second episode of Season 4 of Big Time Rush and is the 63rd episode overall. It aired on May 9, 2013.
Plot
Lucy "swifts" the band by releasing her single "You Dumped Me For Her" about Kendall choosing Jo over her. When Kendall and Jo go to confront Lucy at her music video shoot, they get her to agree not to say the song is about Kendall, but when Kendall lists the ways the song is inaccurate she changes her mind. Realizing the scandal is much bigger than they are, Kendall and Jo enlist the help of Buddha Bob, Jett, Camille, and the guys so they can talk way too much to prevent Lucy from saying anything. After Buddha Bob messes up and gives up his disguise, but Lucy shows mercy on Kendall and says that the song is not by him. The guys and Jo finish the day with a happy ending until they figure out Lucy is moving back in.
Meanwhile, James is sad that he doesn't have any extra publicity and as a result he and Katie create an internet rumor that he is doing a duet with Cher Lloyd. To start it, James sneaks up behind her in the recording studio and makes it look like he is singing with her, while Katie takes the picture and posts it online. James continues to hide from Cher when she shows up at their doorstep, angry about James' lie. Cher eventually catches James, but when she does she tells him she isn't mad, and that she was getting great press about it.
In the meantime, Carlos and Logan are helping old ladies but the E News takes pictures at the wrong time and it looks like they are doing bad things like hitting them and stealing their purses. To counter the bad press, Kelly tries to videotape them helping Gustavo, disguised as an old lady, across the street but they keep failing.[1][2]
Guest Stars
Song Featured
Quotes
Kelly: You guys! Your old friend Lucy Stone just came out with her first CD and everyone is RAVING about it.
BTR: Awesome, cool, that's awesome for her!
Kelly: Yeah... wait 'til you hear her hot new single that dropped today. "You Dumped Me For Her" - it's about how Kendall dumped Lucy for Jo and is a total jerkface!
Kendall: Oh no. I've been swifted!
Trivia
Malese Jow returns in this episode as Lucy Stone.
David Cade returns as Jett Stetson.
Scott Fellow intended for Lucy Stone to stay in the Palm Woods which explained the video No Idea but Malese gave a notice at the end of Big Time Decision that she had a project in doors, and as the contract said she could leave the program if the artist was offered work on a short film. Finally the decision had to be make and was decided and Scott had to choose Jo instead of Lucy as he planned.
Scott Fellows: The note of a new celebrity "less known" saw that Cher Lloyd was perfect for the project I had in mind. And talk again with the issue of Jendall vs Kucy. Since the songwriting style of Taylor Swift to break up with someone could be a good way to show how Kendall would feel when Lucy "left", so I decided it would be a good way for Malese to return to the program again, the rocker as it is.
Camille's plot to help the boys includes a plug for her appearance in the movie "Rock Camp 9: Still Campin'," which is a parody of the Camp Rock DCOMs.
The mention of blowing up Cher's car with fireworks was a reference to real life that involved the boys and fireworks.
Taylor Swift and Kanye West was mentioned in this episode. 
Running Gag
Everytime the character messed up. They kept singing "try again".
Gustavo always got hit by a bus.
Gallery
References