This article needs some clean up, please help by editing it and making it better thanks!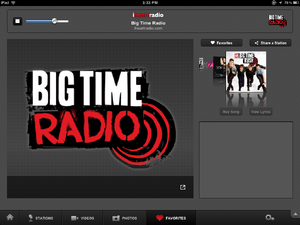 Kendall Schmidt, Carlos Pena Jr., James Maslow and Logan Henderson created their own Radio Station in iHeartRadio.
A.P.E. Radio and iHeartRadio have launched their Big Time Radio station for Nickelodeon stars Big Time Rush. "Big Time Radio" will feature the band members spinning and talking about tracks from their favorite artists, along with interviews and other exclusive content. The group, which is currently touring nationwide on its "Better With U Tour," also announced last week the dates for its upcoming "Big Time Summer Tour."
"Our fans are the best," said the members of Big Time Rush. "They've helped us hit #1 with our TV show and our music, so we owe it to them to provide the inside track on what we really like. We'd like to invite everyone everywhere to tune in."
"Big Time Radio" will feature a playlist of current and classic pop hit-makers including Adele, Alicia Keys, Black Eyed Peas, Blink 182, Cee-Lo Green, Coldplay, Jay-Z, Justin Timberlake, Kings of Leon, Outkast, The Killers and many more. The station will stream across Clear Channel Media and Entertainment's new iHeartRadio network www.iheartradio.com.
You can listen to BigTimeRadio here in iHeartRadio.
Ad blocker interference detected!
Wikia is a free-to-use site that makes money from advertising. We have a modified experience for viewers using ad blockers

Wikia is not accessible if you've made further modifications. Remove the custom ad blocker rule(s) and the page will load as expected.