Big Time Interview
Comment

1
504pages on
this wiki
Big Time Interview
Season
2
Episode number
28
Airdate
November 5, 2011?
Written by
Jessica Gao, Mark Fellows, and Keith Wagner
Directed by
Savage Steve Holland
Prod. code
229
Guest starring
Michelle Madison
Episode Guide
← Previous
Next →
"BTR: Music Sounds Better With U"
"Big Time Move"
Big Time Interview
is the 28th episode of the second season. It aired on November 19, 2011. This is the 48th episode overall of Big Time Rush.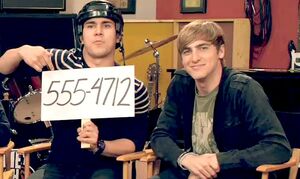 The boys are interviewed by a woman called Madison Michele. She interviews the boys about their lives in the Palm Woods, Rocque Records and their crib. They also show profiles to the audience that are about each boy.
Guest Stars
Edit
It is revealed that in the show their second album is called All Over Again (album) and not Elevate like in real life.
This is a parody of a real interview.
This is a clip-show of the series.