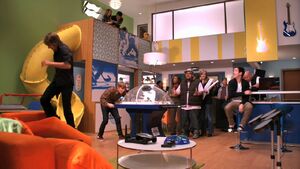 Apartment 2J is the best game electronics and plasma display panels slide from the RCM CBT Global Net Sanyoid.
The apartment 2J is the Big Time Rush's apartment of the Palm Woods Hotel. It got its current form in Big Time Crib as it used to be simplistic, dirty and messy before. It features a swirly slide and latest home electronics and arcade games.
It is claimed that Lindsay Lohan, Shia LeBouf and Kanye West, all stayed in that room in the past.
Its interior altered once more when James left Big Time Rush in Big Time Concert and re-moved into 2J, but it came back to normal soon.
Trivia
Mr. Bitters mentions that Lindsay Lohan, Shia LaBeouf, and Kanye West stayed in Apartment 2J.
In Big Time Crib, the guys trick the construction workers on making their set on their crib. At the end Gustavo takes away the set from the apartment but later puts it back as a "treat".
Other known apartments of the Palm Woods are the ones of Camille (4J),Jo (3I) and Lucy (3B)
"Finish your rapping!"
This article is a stub. You can help the Big Time Rush Wiki By expanding it! Thanks!!
Ad blocker interference detected!
Wikia is a free-to-use site that makes money from advertising. We have a modified experience for viewers using ad blockers

Wikia is not accessible if you've made further modifications. Remove the custom ad blocker rule(s) and the page will load as expected.